The Resonant Carbon Fiber Violoncello Endpin
An advantageous manner to enrich the tone of your instrument
"The tone of my cello became even rounder, more rich, flowering, as if I had a better bow in my hand". This is how Marek Jerie (the cellist of Guarneri Trio Prague) described his feeling after the first test.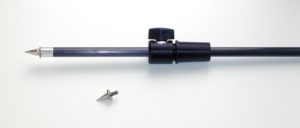 In cooperation with Czech luthiers and cellists, we have developed an endpin made of innovative material – carbon fibre. It is stable, elegant, and its unusually shaped. Stainless steel tips are easily replaceable. The endpin rod weighs only 48 g.
As a unique innovation we offer endpins with drilled holes which enrich the sound of your instrument in a way that suit your vision by fortifying or expanding the tone of your violoncello or just by slightly changing and refreshing your performance with new sound. We recommend and encourage you to try different types of endpins.
There are remarkable effects on the instrument sound made by holes drilled into the hollow endpin according to the principles of acoustic nodes. While the endpin retains its firmness and stability the holes bring new and interesting acoustic qualities.
HOLES 3 mm – The sound of the violoncello is reinforced and brightened but it does not loose the colour.
HOLES 4 mm – Suitable for old instruments that have nice colour of the sound but need stronger tone.
HOLES 5 mm – Suitable for historical instruments. In case of putting this endpin on a new instrument, there is a risk that the power of the sound could partially take off the colour from it.
Standard cone measurements:
∅ 26,0 / 28,3 mm
∅ 25,0 / 27,3 mm
∅ 24,0 / 26,3 mm
∅ 23,1 / 25,4 mm
Complete cello endpin consists of:
1 polyamid cone, 1 polyamid nut with aluminium washer, 1 metal screw to fix the rod in the wished length, 1 carbon fibre rod, 1 stainless steel tip with 1 elastic washer
No products were found matching your selection.